FOURTH SERIES MEDIUM POWER
TRedess Fourth Series Medium Power is a family of Air-Cooled UHF Transmitters up to 2.4 kW, bringing together maximum flexibility, high efficiency based on the use of the latest Ultra-Wide Band Doherty technology, compact design, reliability and very smart installation and operation, fully oriented to minimize the rack space and the total cost of ownership.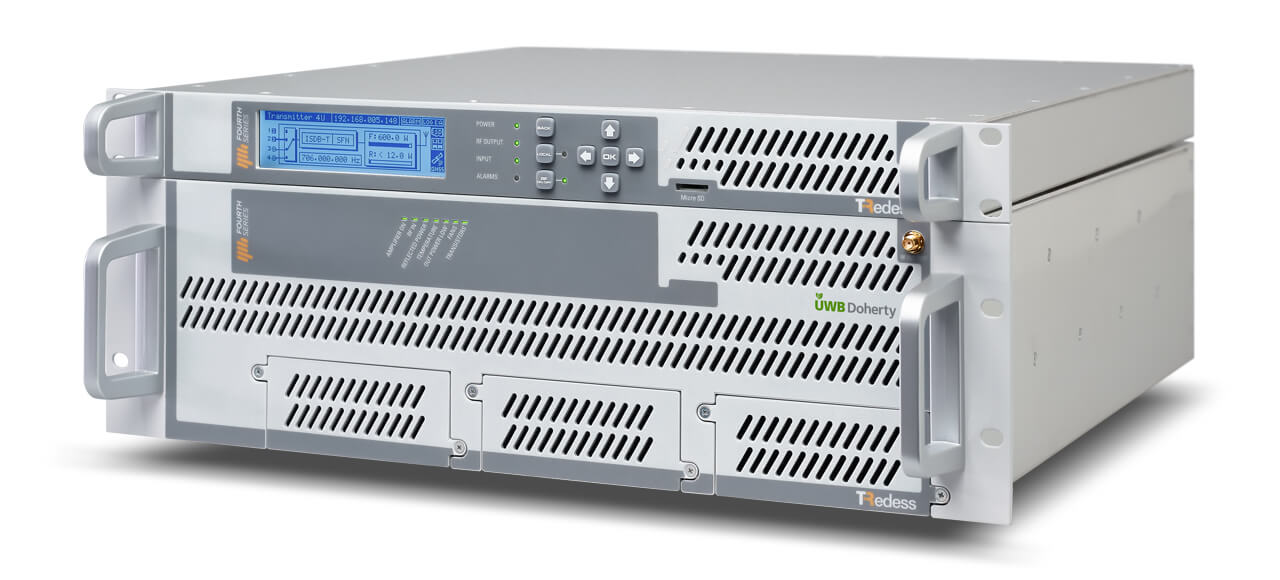 TRedess Fourth Series Medium Power covers DVB-T, DVB-T2, ISDB-T and ISDB-Tb standards, for both MFN and SFN networks. Transmitters can work in Regenerative Transposer mode.
The units include complete local and remote control, plus all the optional functionalities that the particular scenario may need, such as GPS receiver, satellite receiver, (DVB-S/S2), terrestrial signal input (DVB-T/T2), and even 1+1 functionality. N+1 redundancy is also available.
Thanks to Ultra-Wide-Band Doherty technology important cost reductions in energy consumption can be achieved without impacting in a truly smart operation and maintenance.
01
Characteristics
Compact components: Exciter in 1HU. 600W Power Amplifier module in 3HU. One single control Unit in 1HU.
Single Drive and Dual Drive configurations.
DVB-T/T2 and ISDB-T/Tb standards supported.
2 x ASI and 2 x TSoIP inputs with full seamless switching.
Built-in Satellite receiver (DVB-S/S2).
Built-in RF input for Retransmitter operation.
Embedded GPS/GLONASS receiver.
Amplifiers based on Ultra Wide Band Doherty technology reach first-class efficiency levels, so that Fourth Series Transmitters deliver an excellent efficiency, enabling decisive energy costs reductions. (Ultra Wide Band Doherty)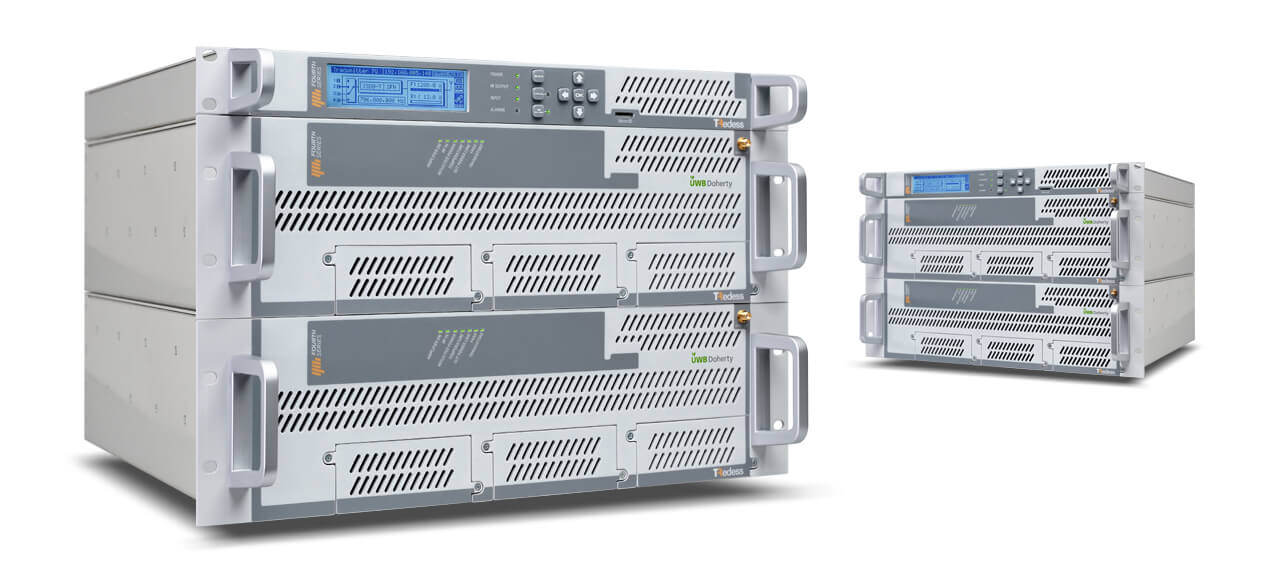 02
Advanced Features
Key advantage of using the same PowerAmplifier module for the entire UHF TV band.
Power transistor using 50V LDMOS technology, leading to a higher power density.
1+1 and N+1 Redundancy configurations.
Power supply redundancy in Power amplifiers.
Outstanding Real-time DAP performance, equalizing the transmitter system, quickly, easily and at any time optimizing Shoulders and MER values.
Easy operation based on very user-friendly local and remote interfaces.
Monitoring of the equipment operation: detail tracking at both service and internal HW level.
Real time display of output Spectrum Graphs and Shoulder values (via Web server or SNMP).
Hot- swap power supply modules, removable from the front panel.
SD card on the exciter front panel, for a fast transmitter cloning and configuration.
03
Advantages & Benefits
The Power amplifiers based on the Ultra Wide Band Doherty technology allow to reach very high efficiency levels, allowing a very significant and decisive reduction in the cost of energy consumption.
The big advantage of the use of UWBD technology is the fact of allowing to perform a change of the RF channel without any need of adjustment or HW modification in the power amplifier, what implies a cost reduction and simplification of the spare parts man
Very significant space usage reduction, hence the costs for renting the transmitter space at the site.
High system reliability due to the redundancy systems 1+1 and N+1.
Very simple local and remote control of the Transmitter via the very intuitive and friendly Web interface the local LCD display.
High system reliability also due the available Dual Drive configuration.
High operation flexibility due to several types of inputs available (RF, ASI, IP, SAT..)
Space and cost savings due to the built-in (DVB-S/S2) satellite receiver.