TRedess and Televés launches an UHD channel in the DTT for Santiago de Compostela's area
Subtitulo:
RTVE and Cellnex Telecom collaborate on the project launched today in the Technology Centre of the Corporation
Imagen: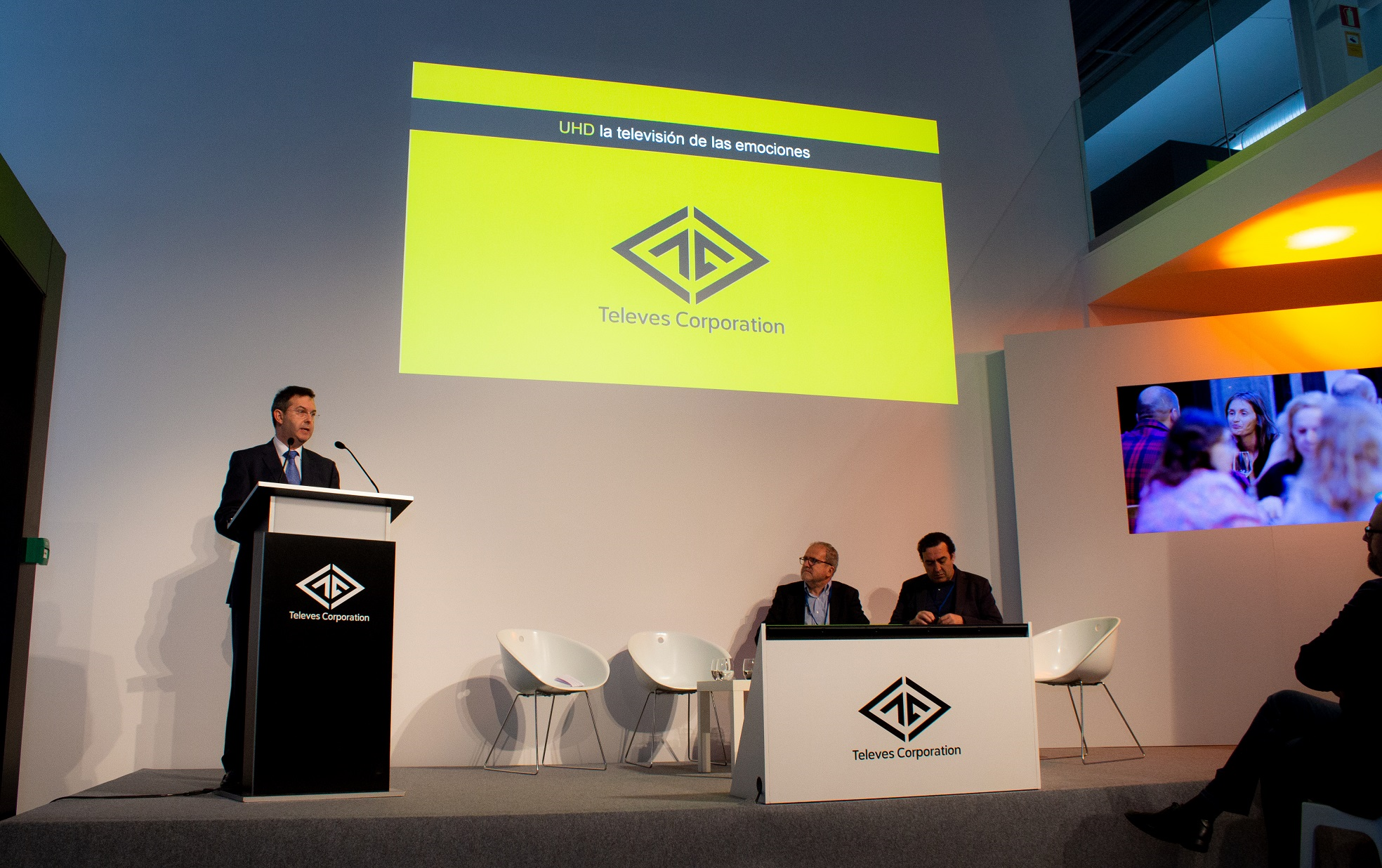 Texto:
Televés brings the emotions TV to Galicia. The company launched an Ultra High Definition (4K) channel which broadcast during six months in the DTT for Santiago de Compostela's area. It is a pioneering project which places Galicia at the development forefront of the TV technology. Indeed, it allows the company to make technical tests in order to commercialize UHD in the future and other DTT advanced functions, like movement reception.
The broadcast has been presented today in the Technology Centre of Televes Corporation. The content (33 channel) is a RTVE documentary about Santiago de Compostela, which belongs to the World Heritage Cities series. Cellnex Telecom also collaborates in the project providing the Monte Pedroso broadcast centre facilities.
The 24 hours channel of RTVE has broadcasted a live connection of the launch event. In this event has participated personalities like Santiago Rey (General Manager of Televes Corporation), Ramón Pallarés (Broadcast Sales Manager of Cellnex Telecom), Pere Vila (Technology Estrategy and Digital Innovation of RTVE manager) and Juan Manuel Higalgo (General Manager of La 2 channel). It has also attended the event Martiño Noriega (Santiago de Compostela's mayor), Antonio Fernández-Paniagua (Radio Spectrum Planning and Management Assistant Manager) and Patricia Argerey (General Manager of Innovation Galician Agency, GAIN).
The technology behind broadcasting
A Fourth series medium power transmitter (1.2 kW) of Tredess (company of Televés Corporation) has been used to carry on this project. It is a latest transmitter compatible with DVB-T2 system and equiped with Ultra Wide Brand Doherty. This equipment optimizes energy efficiency.
This project lasts at least six months and its main goal is doing technical tests with DVB-T2 modulation (DTT of second generation) like movement reception, for example. However, Santiago de Compostela's area domestic TVs prepared for DVB-T2 could receive the broadcast.
It is the fourth UHD broadcast experience in Spain. Santiago de Compostela joins the broadcast centres of Madrid, Barcelona and Sevilla where similar experiences have been done.